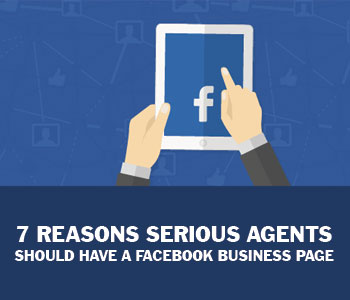 There are millions of business owners, realtors included, who are incorrectly using personal Facebook profiles to market their businesses.
These individuals risk getting deleted from Facebook altogether, due to inappropriate personal profile use.
Not only is marketing on a personal profile against Facebook policy, but it is also hurting yourself and your business.
There's a long list of reasons why a Facebook business page is better for your marketing than a personal profile.
Here 7 reasons why you need to have and regularly use a Facebook business page:
1. A personal profile looks unprofessional
You may think that everyone who "friends" your real estate business appreciates that you are running it through a personal profile. But the truth is that many of us look at it and simply shake our heads.
The hard truth is that a personal profiles dedicated to your business just looks sloppy. It also indicates bad planning. It screams to smart and savvy homebuyers and sellers that you don't know what you're doing. And these are not the messages that you want to be sending to potential leads and clients.
2. Personal profiles limit your number of Facebook friends
If you continue to run your business through a personal profile, it indicates to others that you don't have very high aspirations for your marketing efforts on Facebook.
Since you can only have a maximum of 5,000 Facebook friends, you are seriously limiting your brand reach.
Every great real estate agent should have plans to grow, and every real estate business should want to reach more than 5,000 people on Facebook. If you do, you'll need to scale.
With a Facebook business page, there are no limits to the number of fans you can acquire- meaning that your business has unlimited growth potential!

3. Facebook tabs and contests
With Facebook tabs, you can use apps that provide value like home evaluation tools, home search, contact forms and more. You can even add apps that run contests or giveaways that drive people back to your page regularly to enter.
On a personal profile, these tabs aren't available. You're limited to only your posts and comments to tell your brand's story and market your services. How do you plan to run contests from a personal profile? You can't, unless you are willing to violate Facebook terms!
4. Access to advertising
Your real estate business cannot grow if it is not on display for public awareness.
With Facebook ads, you have a one-of-a-kind opportunity to accomplish this. If you use a Facebook business page, you can reach more people with Promoted Posts. You can also create ads that target people with relevant interests and attract new fans and clients.
Best of all, you can do all of this on a very small budget. If you're serious about growing your real estate business, reaching new people and selling your services, you should be open to Facebook advertising, which is only available on Facebook business pages.
5. Native Facebook scheduling
A great tool of a Facebook business page is the ability to schedule content in advance.
You can prepare posts that will fulfill your marketing goals of building trust, generating leads, and outshining the competition. These posts can be created days or weeks ahead time, making Facebook marketing more convenient and effective for agents who have to deal with the hustle and bustle of daily real estate activities.
6. Facebook Insights
If you are still using a personal Facebook profile to market your real estate services, you have no access to Facebook Insights.
You are unable to export and analyze the huge amounts of information that can help you understand your customers, what they like and don't like, where they are from, and when they are online.
How exactly do you measure success and failure? How do you expect to improve your marketing? If you're a serious real estate marketer, you need hard data to drive your strategy. And if you don't have hard data, you aren't a serious business.
7. Use of third party tools
There are some terrific third-party tools out there that help you better manage your business on Facebook. These marketing tools will help you with content management, analytics, contest promotions and advertising.
These tools, however, only work with a Facebook business page. With all of the benefits of Facebook business page- and you don't have one yet- what are you waiting for?
If you don't feel comfortable creating your own Facebook business page, there are services available to assist you in doing this. The Real Estate Agent Directory, for example, has a team of marketing professionals who will create a Facebook business page and professionally design a cover photo branded to your business. Take advantage of their expertise and put your real estate service in a prime position to capitalize on Facebook!
What do you think? Are there other benefits to using a Facebook business page over a personal profile? Comment below!

https://pagecreate.homeasap.com/wp-content/uploads/2016/12/read-service-lighter.png
0
0
admin
https://pagecreate.homeasap.com/wp-content/uploads/2016/12/read-service-lighter.png
admin
2016-12-14 16:54:38
2016-12-21 12:05:01
7 Reasons Serious Agents Should Have a Facebook Business Page